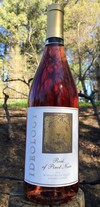 Wine Specs
Appellation
Russian River Valley
2014 Rosé of Pinot Noir
2014 Rosé of Pinot Noir
Appellation: Russian River Valley, Sonoma County
Varietals: 100% Pinot Noir
Fermentation: fermented in stainless steel
Winemaker: Julie Lumgair
Alcohol: 13.9%
Winemaking – Located in the heart of Sonoma County, the Russian River Valley is a premier region for growing world-class cool climate grapes such Pinot Noir. Russian River valley has an amazing complexity of soil types which are perfect for the often difficult to grow Pinot Noir. In the growing season, warm daytime temperatures plummet when the fog regularly intrudes from the Petaluma Gap to the south and the Russian River to the west.
The two-clones of Pinot Noir grapes, #667 and #777 were hand harvested at night and dawn and then using the Saignée (French from bleeding) method, the pink juice from the must (freshly pressed juice) fermented in stainless steel, and undergoes partial malolactic fermentation.
Tasting – This pale jewel pink beauty has a touch of minerality and aromas that fill your nose with wild strawberries and tart black cherry.
Palate: Refreshing notes of raspberry, with a wisp of watermelon and just the slightest hint of blood orange on the finish. This is the perfect patio sipper and a wonderful accompaniment to a wide assortment of delicious foods such as melon and prosciutto, salads, crab, grilled fish, quiche, and grilled chicken.