Our Story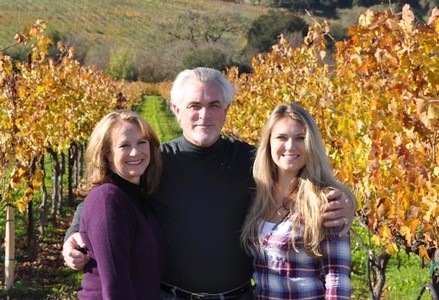 In 2003, after spending 20 years building homes in beautiful Half Moon Bay, CA, we began our search in the Napa Valley for property to build our own wine country getaway. The result of that search was a 15-acre vineyard located in the Oak Knoll District of Napa Valley that was planted with Cabernet Sauvignon and Merlot grapes. A dream from the time Bob was in his 20s finally came to fruition with his first bottling of Merlot from his very own vineyard. Fueled by our infatuation for small production wines, we began an amazing headlong free-fall into the wine business. From taking classes to learn about our vineyard, to our first attempt at wine making - we were hooked.
On Christmas Day 2005, Joni was surprised with the news that we were acquiring the former Koves-Newlan Winery located in Napa Valley's Oak Knoll District! By the following year's harvest, we had a fine-tuned custom crush facility that excelled in helping several small artisan wineries produce their fine wines. In 2007 we built a tasting room providing visitors the opportunity to taste and purchase some of the fabulous small production wines made at our facility. Within two years, Wine Spectator referred to our winery as a "Hidden gem in Napa Valley." During this time, we created our Ideology label and as we originally believed the Cabernet Sauvignon from our Williamson Family Vineyard provided exquisite fruit for our wine. This shifted our focus to concentrate solely on our own label and fulfill our desire to make world-class wines.
Two years later we sold the custom crush facility but kept the best vineyards with space for a new winery. In 2010, our 2007 Estate Cabernet received 95 points from Wine Enthusiast and was ranked number 57 on their list of Top 100 Wines of the World! Our Williamson Family Vineyard continues to shine in our 2015 Cabernets with the Estate receiving 93 points and the Reserve receiving 95 points from Robert Parker's Wine Advocate.
While we continue to focus on producing high-quality, small lot wines, the Evolution continues with the planning of the new Ideology Cellars winery.
Bob & Joni