Our Team
Winemaker - Gustavo A. Gonzalez
A self-described, "eternal student" our Winemaker, Gustavo Gonzalez, has traveled the world to absorb what the terroir, the practices and the people can teach him. As he says, "The key is to learn about the wines, so you can compare and appreciate them, even the ones you don't like."
Like so many of the best winemakers, the wine found him – it wasn't part of his original game plan. While studying science and economics at UC Berkeley and UC Davis, he discovered he had an aptitude for discerning the subtle nuances that set one wine apart from another and was intrigued. He began studying enology, a pursuit so compelling that it forever changed his course.
Gustavo joined Robert Mondavi Winery as Master Lab Tech in 1995. There's no better training ground for the aspiring viticulturist or enologist and he worked his way up through the ranks, taking responsibility for Mondavi's reds as Winemaker in 2003. A defining moment in his career arrived when he spent a year in Tuscany as the consulting enologist at Tenuta dell'Ornellaia. During this time, he worked side by side with the renowned global wine consultant, Michel Rolland. As a result of Gustavo's work, he was credited with producing a 100 point wine, the 2001 Masseto. He's the only Mondavi winemaker credited with producing a Spectator 100-point wine. In addition, he also was credited with a 98 point Ornellaia.
He continues in his quest for experiences that enrich him as a winemaker and effective May 2012, after 17 years, he announced his departure from Robert Mondavi Winery. He will be continuing his career with projects in France, Argentina and a few boutique projects here in the States, as well as his own personal label, Mira. He will also continue his consulting internationally, which provides him the opportunity to use his Spanish, French, Italian, and German language skills, not to mention adding to his cultural experiences via travel.
Fortunately for us, Gustavo is a California boy at heart and our exceptional wines are an expression of the unique character of each vineyard site joined with his knowledge, experience, attention to detail and phenomenal palate.
When he's not making or tasting wine, Gustavo enjoys music, travel and is a car enthusiast. He loves spending time with his family and his German Shepherd, Siro.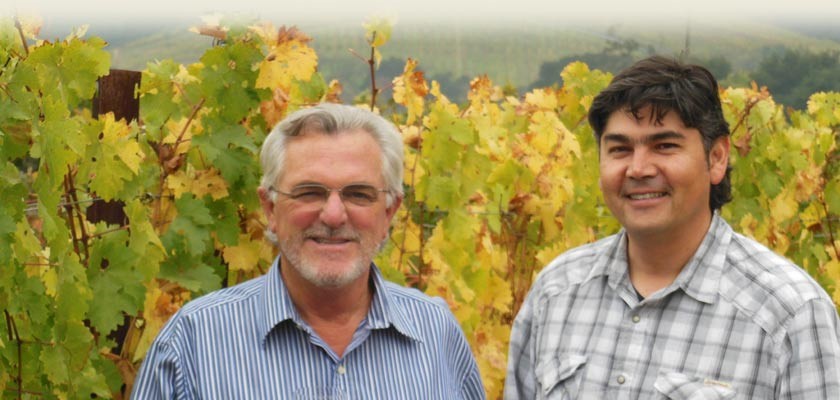 Vineyard Manager - Bill Munk
Since 1995, Bill Munk our Vineyard Manager, has been managing and nurturing the vines on our estate vineyard. Having Bill oversee our vineyards has resulted in the beautiful fruit that makes our flagship Cabernet Sauvignon. Over the years, Bill's leadership has lead us to a solid, well-deserved reputation for producing a consistently powerful collection of wines. This tradition of eminently drinkable yet complex Cabernet Sauvignon continues today.